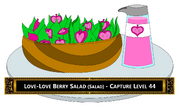 Love-Love Berry Salad
is one of the sweetest-
tasting
 salads you will ever have in your lifetime. Love-
Love berries
 can only be found on Siren Song Island, a small remote island that is said to be the home of several mermaids. The heart-shaped berries will only grow and ripen when they hear the singing of the mermaids. When mixed with the bush's leaves, which acts as a high quality lettuce, these berries create a delectable salad that is very popular among women. When a berry is ingested, it causes the brain to release an enormous amount of endorphins. When combined with the sweetness of the berry, one almost feels like they have 
fallen in love
 with the salad. Love-Love berries can also be turned into a syrup that compliments the salad perfectly. 
Ad blocker interference detected!
Wikia is a free-to-use site that makes money from advertising. We have a modified experience for viewers using ad blockers

Wikia is not accessible if you've made further modifications. Remove the custom ad blocker rule(s) and the page will load as expected.